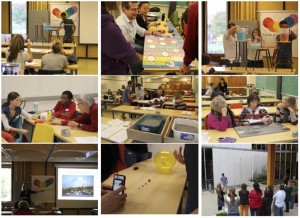 A Canada Geological Foundation Grant has helped support the Pacific Museum of Earth Teacher Training Program. They report:-
On October 24, 2014, the Pacific Museum of Earth hosted a 1-day teacher training workshop. We hosted 21 K-12 educators from the Lower Mainland for a day of Earth science lectures and activities. Workshop registration was free for teachers and the PME provided lunch as well as specimen kits, which contained a selection of rocks and minerals.
We plan to run our teacher training program annually as a means to forge stronger relationships with BC schoolteachers, introducing some to Earth Sciences for the first time and building upon past experiences for returning participants. Many K-12 teachers feel unprepared to teach this area of the science curriculum. In particular, teachers who come from an arts background are confused by the range and depth of the subject material and unsure how to present it in the classroom. In our workshop, we explored K-12 program requirements through presentations, hands-on activities and experiments. We linked each topic to the Prescribed Learning Outcomes as detailed in the BC curriculum.
Our workshop topics included:
• Stars and the solar system
• Rock identification
• Fossil identification
• Mineral identification
• Earthquakes and plate tectonics
• Volcanoes
Graduate students and instructors from the Department of Earth, Ocean and Atmospheric Sciences led 30 minutes presentations for each topic followed by a 20-30 minute hands on experiment or activity. We ordered a catered lunch for all of the teachers and instructors.
We evaluated the effectiveness of the workshop through an anonymous online questionnaire where teachers could provide feedback and suggestions for next year.
We appreciate the support provided by the Canadian Geological Foundation and would not have been able to successfully run these programs without it!